Background
Climate change is a key challenge facing the natural, built, and community systems of Cape Cod. Cape Cod is vulnerable to climate-related hazards, such as sea level rise, storm surge and flooding, and erosion. These hazards can cause loss of life, damage buildings and infrastructure, impair coastal environments, and otherwise impact a community's economic, social, and environmental well-being, including impacting how Cape Cod's ecosystems function. Mitigating the causes of climate change and adapting to its effects on Cape Cod involves regional planning and policy decisions with both environmental and economic considerations.
The Initiative
The Cape Cod Climate Initiative is a community-focused, information-based effort to inform a strategic framework and collaborative approach to address the region's contributions to and threats from climate change.
Cape Cod faces unique challenges due to its geography and geology, historic connection to the sea, and the number of residences, businesses and critical infrastructure located in its most vulnerable areas.  The extent of threats facing the Cape Cod region requires coordinated action and broad community efforts.  
The Cape Cod Commission held a series of facilitated sub-regional community meetings to solicit input regarding planning priorities, concerns, and barriers to moving climate adaptation and mitigation actions forward throughout the region. These discussions will help to inform a strategic framework and a broad collaborative process to address the region's contributions to and threats from climate change. The community meetings took place in the latter half of October 2019 in Chatham, Wellfleet, West Yarmouth, and Mashpee. The goals of the meetings were twofold:
To share current, past, and anticipated climate-related initiatives on Cape Cod.

To solicit input regarding planning priorities, concerns, and barriers to moving climate adaptation and mitigation actions forward throughout the region.
To learn more about the Cape Cod Climate Initiative and participate in future meetings click here to join the mailing list.
Infrastructure at Risk
Even today, without the increasing risk of sea level rise, flooding threatens more than 13,000 single family homes - worth a combined $9 billion - located within the FEMA special flood hazard areas. A total of $28.8 billion in total assessed property value is at risk.
Flooding and sea level rise also impact transportation networks on Cape Cod. The Sea Level Rise Viewer tool has data layers that indicate with one foot of sea level rise, over 50 miles of roads become disconnected or isolated, limiting emergency and day-to-day access to these locations. With three feet of sea level rise, this number jumps up to almost 160 miles and with six feet of sea level rise, over 700 miles of the region's roadways become disconnected.
In addition to our built infrastructure, climate change will also affect Cape Cod's natural systems. The region depends on healthy and resilient "green infrastructure" like salt marshes and beach dunes to mitigate impacts of erosion, extreme weather events, and storm surge. The Resilient Cape Cod Project examined ecosystem services in context of adaptation and a changing climate, communicating risks to Cape Cod's natural environment and its implications for the region.
Increasing the region's resilience to climatic changes and rising sea level means thinking into the future and adjusting behaviors that put people and property at risk.
Ongoing Planning and Initiatives
Resilient Cape Cod
NOAA's Coastal Resilience Grant Program awarded the Cape Cod Commission and its grant partners $750,000 for the Resilient Cape Cod Program, which investigated and communicates the environmental and socio-economic effects of local and regional coastal resiliency strategies. The GIS-based tool developed through the project, the Cape Cod Coastal Planner, can assist communities in making difficult decisions related to coastal impacts and resiliency.
Greenhouse Gas Emissions Inventory
Certain gases that trap heat in the Earth's atmosphere such as carbon dioxide (CO2), methane (CH4), and nitrous oxide (N20), are known as greenhouse gases (GHGs) and are widely acknowledged to contribute to climate change. Commission staff are currently collecting and analyzing data for GHG emissions calculations.
Regional Planning Integration
Climate change planning has been integrated into the three major regional plans for Cape Cod:
Comprehensive Economic Development Strategy
The RPP identifies climate change as one of the key challenges facing the region, putting Cape Cod's natural, built, and community systems at risk. It includes a section on climate change response, readiness, and mitigation and planning actions to support renewable energy development, advance Green Community designations, and develop a baseline of greenhouse gas emissions that will help communities better understand opportunities for mitigation.
The CEDS names Climate Change Planning as one of nine major regional initiatives in its Action Plan and integrates considerations of its impacts throughout the plan.



The RTP outlines the Cape Cod Metropolitan Planning Organization's (MPO) approach to climate change, based on the Federal Highway Administration's policies on climate change:
Adaptation: Preparing for the impacts of global climate change on the nation's transportation infrastructure and ecosystems
Sustainability: Ensuring that balanced choices are made among environmental, economic, and social values that will benefit current and future road users
Mitigation: Identifying strategies that reduce greenhouse gas (GHG) emissions from transportation sources
Energy: Promoting the use of alternative and renewable fuels, and vehicle technologies to reduce oil dependence, vehicle pollution, and energy use
Municipality Vulnerability Preparedness Program
The Municipal Vulnerability Preparedness grant program (MVP) provides support for cities and towns in Massachusetts to begin the process of planning for climate change resiliency and implementing priority projects. The state awards communities with funding to complete vulnerability assessments and develop action-oriented resiliency plans. Communities who complete the MVP program become certified as an MVP community and are eligible for MVP Action grant funding and other opportunities.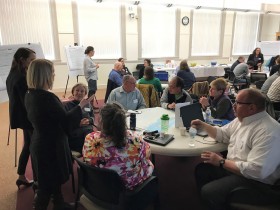 In 2019, the Commission and Cape Cod Cooperative Extension assisted 7 Cape Cod towns (Barnstable, Bourne, Dennis, Eastham, Harwich, Truro, and Wellfleet) with the MVP planning process to identify climate change impacts and vulnerabilities and develop and prioritize strategies or actions to address those vulnerabilities.
By the end of FY2020, all 15 Cape towns will have participated in the program. Once designated, communities have access to state funding to implement identified actions.