About the Project
Project Files
Recent Updates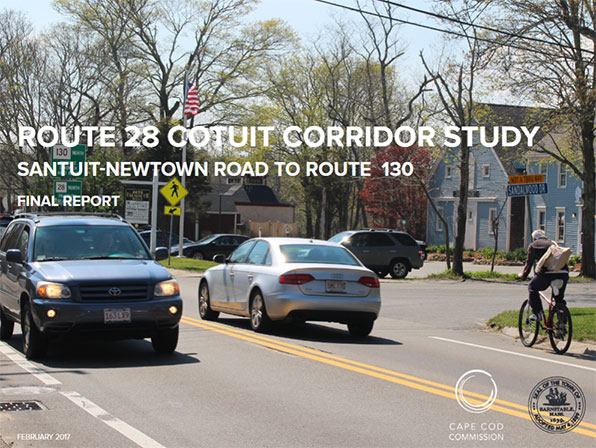 About the Project
DOWNLOAD REPORT: Route 28 Cotuit Corridor Study
Route 28 in Barnstable is a major regional east-west transportation corridor on Cape Cod owned and maintained by the Massachusetts Department of Transportation MassDOT. The section of Route 28 from Santuit-Newtown Road to Route 130 was identified as a priority for investigation. This section of road is often congested, particularly in the summer months, and exhibits many safety issues. Particularly problematic are the three major intersections: Route 28 at Santuit-Newtown Road, Main Street, and Route 130.
The purpose of this study was to develop alternatives that will provide safe and convenient access within the study area for all users of the roadway system including pedestrians, bicyclists, and motorists.
With the benefit of active participation by members of the community, a detailed analysis of existing conditions was conducted to pinpoint issues along the corridor. Beginning with recommendations from the public and working closely with Town staff, a host of potential improvement options were developed throughout the corridor. Based on technical review and feedback from a public review of the alternatives, these improvement options were refined and organized into a set of key short- and long-term recommendations.
Beyond the key recommendations, the report outlines the host of improvement options to consider and advance as funding becomes available. To assist in prioritizing improvements, the report identifies the relative time frame, cost, and expected benefit in terms of safety and congestion, including bicycle and pedestrian accommodation, for each potential improvement.
Recent Updates
In the fall of 2021 Cape Cod Commission staff began work on a Road Safety Audit for the intersection of Route 28 and Santuit-Newtown Road as recommended by this report. The Road Safety Audit will be completed in early 2022.
Cape Cod Commission staff will continue to coordinate with MassDOT, the Town of Barnstable, and the Cape Cod Regional Transportation Authority on the implementation of the recommendations outlined in this plan.
Content for Tab 4 Goes Here