Overview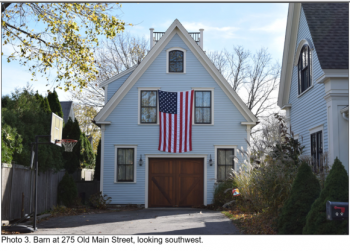 Affordable, diverse, smaller scale rental housing is needed throughout out the region. The gap between the median annual income and the cost of housing continues to widen at the same time as average household size declines on Cape Cod creating a demand for smaller units affordable to the regional population. One way to diversify our housing stock and increase the number of small units is by augmenting the existing housing supply with Accessory Dwelling Units (ADUs).
The American Planning Association defines ADUs as smaller, independent residential dwelling unit located on the same lot as a stand-alone (i.e., detached) single-family home. ADUs go by many different names in the US, including accessory apartments, secondary suits, and granny flats. For more information from the APA, please visit https://www.planning.org/knowledgebase/accessorydwellings/
ADUs are an important tool to support housing affordability that has special applicability on Cape Cod, where we have an abundance of seasonal housing units that sit unused for much of the year. In those areas of our region with limited infrastructure and sensitive habitats, particularly on the Outer and Lower Cape, ADUs will be an important part of meeting Cape Cod's housing challenge.
Communities on Cape Cod have adopted a bylaw to allow ADUs, some requiring rigorous permitting or deed restrictions, resulting in very few new units created across the region. To promote affordability by limiting the size of the dwelling unit, the Cape Cod Commission drafted a model ADU bylaw allowing ADUs 'by right' to support the addition of small scale housing alternatives to meet the needs of our region.
Historic properties with outbuildings and ells can allow for the creation of smaller scale affordable housing units consistent with historic uses and regional demand for housing alternatives. An inventory of historic structures and outbuildings creates an opportunity to plan for investment in these important structures to create a revenue stream to support ongoing maintenance of important historic properties vital to the character, heritage and economy of our region.
Cape Cod Commission staff have compiled a summary of accessory dwelling unit provisions by town. Please note, this table is meant to provide high level information and does not contain the many nuances, special circumstances, and other exceptions contained within a town's actual zoning. For the most complete information, please reference the individual town zoning bylaws.
If you're interested in ADUs, please contact your Town's Planning or Building Department about how to establish an ADU in your community.