Town of Orleans makes improvements for pedestrians, cyclists, and drivers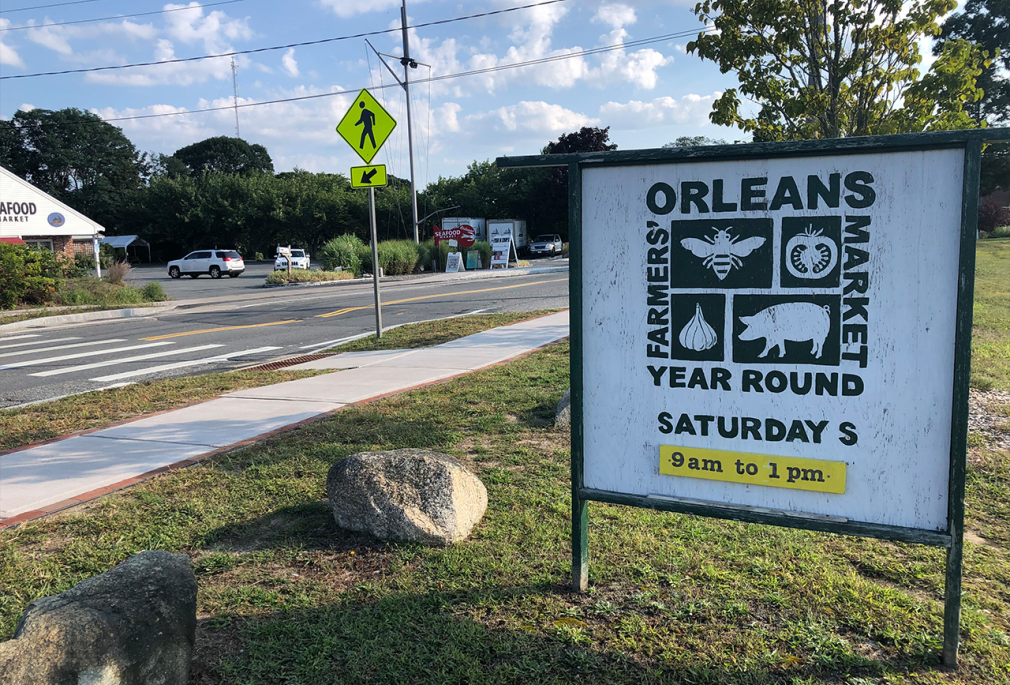 The Town of Orleans recently installed 900 feet of sidewalk and improved crossings along and across Old Colony Way, from Main Street to Orleans Market Place. These improvements connect the popular Orleans Farmer's Market and nearby artists' shanties with the vibrant Orleans Village Center.
During the pandemic, many residents in nearby apartments and condos accessed the farmer's market for fresh produce in a safe, outdoor shopping environment. Many more individuals came from surrounding areas in Orleans Village Center before walking to the farmer's market. Others biked to the farmer's market from the nearby Cape Cod Rail Trail. The new sidewalk and crossings support these activities, while helping local vendors at the farmer's market.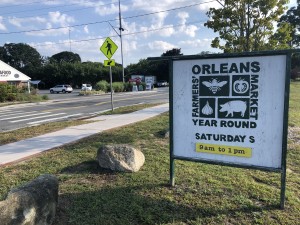 In addition to the new sidewalk, the project included new curb extensions (to shorten crosswalks and enhance visibility) and high visibility crosswalks. New plantings shield pedestrians from traffic and enhance the aesthetics of the area for walkers, bicyclists, and drivers alike.
This project is a culmination of past planning efforts in Orleans. A new sidewalk and improved crossings were recommended as high priority projects in the recent Orleans Parking & Circulation Study (2018) and the Town of Orleans Complete Streets Prioritization Plan (2020). Additionally, the public broadly supported the project in a 2019 workshop held at the Orleans Department of Public Works.
Most of the project (approximately $250,000) was funded by MassDOT's Shared Winter Streets and Spaces program. This program is a continuation of the general Shared Streets and Spaces program, which began in June 2020 and provides technical and funding assistance to help Massachusetts cities and towns plan, design, and implement quick-build projects that improve curbs and streetscapes to support improved mobility, public health, and economic vitality during COVID-19. The winter program focuses on achieving these goals in the winter environment. Commonwealth support was crucial. As George Meservey, Director of Planning and Development stated, "the project provides a safe route from a Town parking lot to the popular Orleans Farmers Market, as well as improv[es] mobility for residents of nearby condominiums, many of whom are senior citizens.  It would not have happened without the Shared Streets Grant." Similarly, the grant's success would have been limited without local and regional support and planning.
Related Posts