Shared Streets and Spaces Grant Program Available to Help Towns Adapt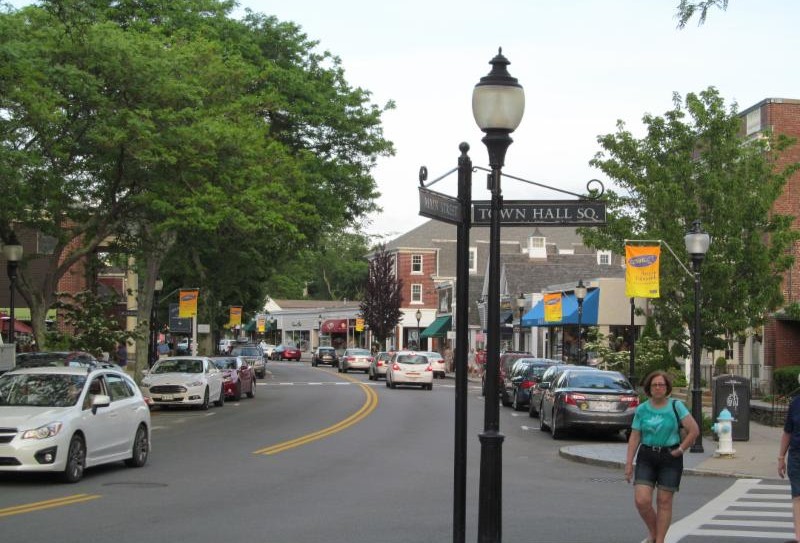 Restaurants and businesses on Cape Cod and across Massachusetts are adapting to new rules and regulations designed to protect public health during the COVID-19 pandemic. Many of these changes involve creating new outdoor spaces for dining and shopping.
In an effort to help businesses in the Commonwealth, the Massachusetts Department of Transportation (MassDOT) has launched a new Shared Streets and Spaces Grant Program that provides technical and funding assistance to help cities and towns engage residents and businesses in a process to conceive, design, and execute shared streets and spaces.
This provides an opportunity for towns to assist their communities in meeting short-term demands for outdoor spaces as well as building out vibrant, walkable spaces for the long term.
This program is a quick-launch/quick-build grant program that will provide grants as small as $5,000 and as large as $300,000 for cities and towns to quickly implement or expand improvements to sidewalks, curbs, streets, on-street parking spaces and off-street parking lots in support of public health, safe mobility, and renewed commerce in their communities.
The Cape Cod Commission is assisting communities with the development of projects and preparation of applications.
All of the information needed to apply can be found here and questions can be directed to sharedstreets@dot.state.ma.us.
Here are a few things to know about the program:
Applications will be accepted on a rolling basis beginning on June 22

nd

and will run through September 29

th

.

Every application must be led by a municipality, which must control the roadway(s) and other infrastructure needed to implement the proposed project.
Eligible expenses can include, but are not limited to, the purchase of materials, labor, and associated operating costs. Reasonable costs for time spent by municipal staff on a project will be considered sufficient local contribution.
Cape Cod Commission staff are available to discuss potential projects and assist with application preparation. Reach out to Transportation Program Manager Steven Tupper (stupper@capecodcommission.org) with any questions or requests for assistance.
Companion Grant Opportunity
A companion opportunity available to non-profits and community groups is being offered by MassDevelopment.
The COVID-19 Response Round: Resurgent Places funding round is being made available specifically to help community partners prepare public space and commercial districts to best serve their population during communities' economic recovery efforts. Eligible projects will comply with the Commonwealth's Reopening Massachusetts plan, and may include outdoor seating spaces, sidewalk retail venues, partitions to support social distancing, and more.
Non-profits and community groups are eligible to apply to MassDevelopment for grant awards of up to $25,000. Up to $10,000 per project may be awarded as an unmatched grant; awards greater than $10,000 must be matched with crowdfunding donations. Applications will be accepted on a rolling basis until July 31, 2020. MassDevelopment anticipates releasing a subsequent round of Commonwealth Places funding, which may or may not also be dedicated to COVID-19 response, before June 30, 2021.