Senator Markey, U.S. Army Corps, Baker Administration, MA DOT and local officials meet to discuss Cape Cod Bridge Replacement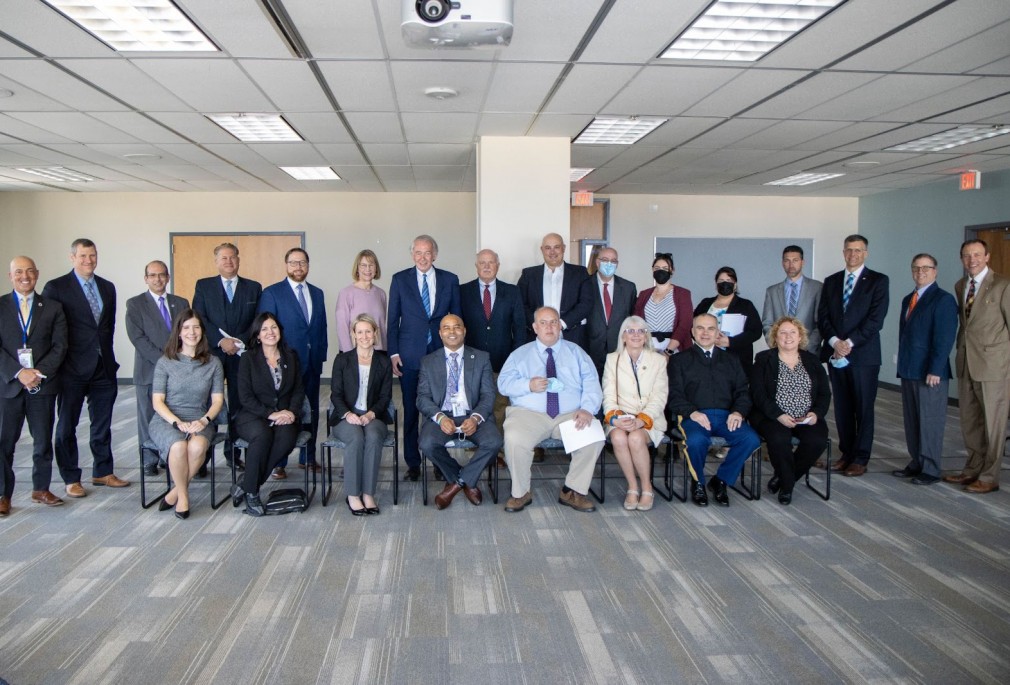 Press Release courtesy the office of US Senator Ed Markey
On Wednesday, April 13th, 2022, Senator Edward J. Markey (D-Mass.) held a meeting to discuss the Cape Cod Bridges Replacement Project with the U.S. Army Corps of Engineers, Massachusetts Department of Transportation (MA DOT) and other local, county and state officials. During the meeting, the Federal Delegation reviewed billions of dollars available through the Infrastructure Investment and Jobs Act (IIJA) that can be pursued to fund the project. This includes the U.S. Department of Transportation's $2.9 billion Multimodal Project Discretionary Grant program which can be applied for through May 23, 2022, and the new $12.5 billion Bridge Investment Program which was created by the IIJA and is expected to open for applications in May 2022. The U.S. Army Corps of Engineers and MA DOT discussed their continued partnership for pursuing federal funding opportunities, designing and constructing the bridges, and engaging Cape communities. The Cape's state legislative delegation and community leaders highlighted key priorities, including improved pedestrian and traffic safety, highway improvements on Route 3, and the importance of having an iconic bridge design that reflects the beauty of Cape Cod.
"Today, we renewed our vows to replace the Cape Cod Bridges, in sickness and in health, for richer or poorer. With a richer path forward provided by the Infrastructure Investment and Jobs Act, this meeting is just another step in delivering on an urgent infrastructure priority for Massachusetts – replacing the Bourne and Sagamore Bridges. We thank MassDOT, the Office of the Assistant Secretary of the Army for Civil Works, the Army Corps, and Federal Highways for their continued collaboration. This is our moment, and we're confident that, together, we can reach our ultimate goal in building two new bridges for the people of Cape Cod," said Senator Markey.
"I'm glad to be working alongside Senator Markey, the Massachusetts delegation, and local leaders to advance the Cape Cod Bridges Replacement Project. I fought hard to secure federal funding for this project in the Bipartisan Infrastructure Law, and look forward to our continued collaboration to build these critical new bridges," said Senator Elizabeth Warren (D-Mass.).
"I am happy to see that the federal government continues to work closely with our state and local partners on this important project. As progress towards the construction of the Cape Cod Canal Bridges is made, we must ensure that we continue this close communication so that the needs of the community are met. There is a long road ahead of us before the first passengers cross over the new bridges, but I am proud of the work we have already done in laying a solid foundation for this project and look forward to the day when we see the new bridges completed," said Representative Bill Keating (MA-09).
"The Baker-Polito Administration appreciates the efforts of Senator Markey and Massachusetts' federal delegation in convening local, state and federal stakeholders to continue to advance plans for the replacement of the Bourne and Sagamore Bridges," said Transportation Secretary and CEO Jamey Tesler. "The Bipartisan Infrastructure Law provides new resources to draw from for many of the Commonwealth's infrastructure needs and the Administration looks forward to continued engagement on the various project components, including working with U.S. Army Corps of Engineers to compete for and secure federal funding for the replacement and ultimate divestment to the state of these federally-owned assets," said Secretary Jamey Tessler.
"We are grateful for the continued collaboration and dialogue among our federal, state and elected officials to ensure this project provides a safe and reliable solution for the region," said Col. John A. Atilano II, Commander, USACE New England District. "This project is another example of the strong partnership we have with the Commonwealth, and especially the Massachusetts Department of Transportation, and we look forward to continued dialogue and cooperation in the months ahead."
Built in 1935, the Sagamore and Bourne bridges span the Cape Cod Canal and connect the nearly 250,000 residents on the Cape and Islands to the rest of Massachusetts, serving as essential routes for general transportation, tourism, and evacuations in case of an emergency. These structures are the only routes to and from Cape Cod for vehicular traffic.
The Cape Cod Canal Bridges are owned and maintained by the U.S. Army Corps of Engineers. In April 2020, the Army Corps released a Major Rehabilitation Evaluation Report (MRER) where it recommended replacing the Cape Cod bridges with two entirely new structures at a total estimated cost of $1.6 billion over 50 years. Subsequent to this report – in July 2020 – the Army Corps signed a Memorandum of Understanding (MOU) with the Massachusetts Department of Transportation (MassDOT), which formalized a federal-state partnership to replace the two Cape Cod Bridges.
"I am pleased to partner with Senator Markey, Senator Warren and Congressman Keating as well as the state delegations on both sides of the canal to move forward on the long overdue modernization of our iconic Bourne and Sagamore bridges, both of which are crucial evacuation routes for the community," said Massachusetts State Senator Susan L. Moran.
"Grateful to Senator Markey for keeping us abreast of Army Corp. and Mass DOT's efforts to pursue funding soon to be available for Cape Cod Bridges and for being receptive to our request for needed improvements at exit 3 in Plymouth," said Plymouth State Rep. Mathew Muratore. "Exit three in the Cedarville portion of Plymouth is used as a shortcut to these bridges and improvements to accommodate local and tourist traffic will be necessary."
"These two bridges are approaching almost 100 years old and will need a lot more preventative maintenance moving forward. They are the lifeline to Cape Cod and the Islands. It is the responsibility of the Federal government to provide adequate transportation of persons and necessaries of life for all of Cape Cod. For these reasons we need to support Senator Markey, Senator Warren and Congressmen Keating in advocating for funding to replace the two canal area bridges," said Peter J. Meier, Chairman, Bourne Board of Selectmen.
"Bourne and its villages are at ground zero with both ends of both bridges in our town affecting our daily life. We embrace our town and we are honored to host the canal and bridges in our midst. We have been working around the repairs and detours for some time. It's amazing that the safe replacements are within our reach, for real," said Judith Froman, Vice Chair of the Bourne Select Board. "Our greatest appreciation for Senator Markey for his bipartisan leadership to seize an opportunity that is once in a lifetime and has engagement and preparation at all levels; federal to state to region to local municipality. Respect for preparation poising our successful funding to the businesses which will be disrupted to the property owners who will be displaced; each every one will be and are treated with the respect of having a voice. Thank you."
"As an elected representative of the people of Bourne, I appreciate Senator Markey's update on the project to replace the bridges, which are so important to Bourne's identity. I thank him for allowing local officials to weigh in on this project. This is a once-in-a-lifetime opportunity to improve Bourne's surface roads near the bridges, but we know that such an opportunity brings numerous concerns to our residents, particularly those who face inevitable issues like eminent domain and traffic patterns that may or may not be improved. Meetings such as this one help us help residents whose homes and lives will be directly affected by the project. Improved traffic flow around the bridges will benefit Bourne residents, visitors, and passers-through. It is essential that the competing interests of these segments of the population be recognized," said George Slade, Bourne Board of Selectmen.
"Replacement of the Bourne and Sagamore Bridges is a once-in-a-century investment in the Cape Cod region. The Cape Cod Commission commends Senator Markey and our federal delegation for their dedicated efforts to bring attention and resources to one of the region's greatest infrastructure needs, essential for the long-term viability of our economy and vitality of our communities," said Kristy Senatori, Executive Director, Cape Cod Commission.
"The bridges physically connect Cape Cod to the rest of the world. Replacing these structural icons has been a capstone policy issue for the Cape Cod Chamber of Commerce and we are grateful for the leadership of our elected officials on Cape Cod, in Boston and Washington who are making this infrastructure investment possible," said Paul Niedzwiecki, CEO, Cape Cod Chamber of Commerce.
Press Release courtesy the office of US Senator Ed Markey