New pedestrian hybrid beacon installed in Eastham
Safer Route 6 crossing for bicyclists and pedestrians
A new traffic control device called a pedestrian hybrid beacon is now in place in Eastham across Route 6 at Governor Prence Road.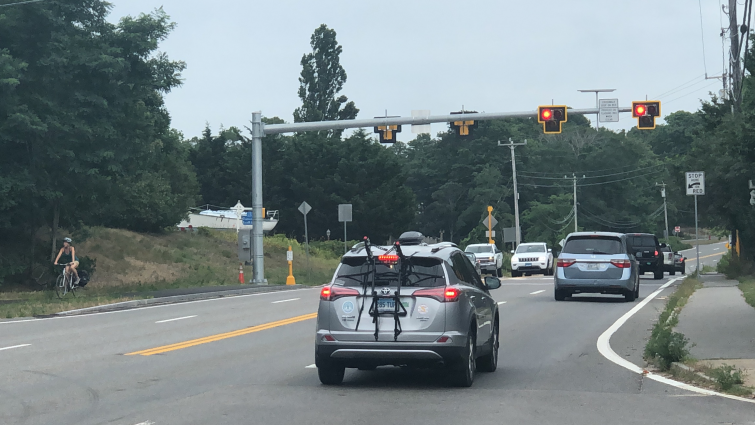 A pedestrian hybrid beacon is a traffic control device used to stop vehicle traffic on an as-needed basis to allow pedestrians and bicyclists to safely cross. The beacon remains black until activated by a bicyclist or pedestrian. When activated, the beacon requires motorists to stop to allow the cyclist or pedestrian to safely cross. Bicyclists and pedestrians must still use caution when crossing the roadway. This is particularly true as drivers get used to this new traffic control device.
Because the pedestrian beacon is only triggered when it is activated by someone wishing to cross the highway, it will have minimal impact on traffic flow through the area while having the great benefit of a safe crossing for people to go hiking, bicycling, or sightseeing on the east side of Route 6 at the Fort Hill area.
The Cape Cod National Seashore led the installation effort with support from the Town of Eastham, Massachusetts Department of Transportation, and the Cape Cod Commission.
Cape Cod National Seashore managers say they are excited to have this signal in place and operational. Many Cape Cod Rail Trail users were seeking a safe connection from the Cape Cod Rail Trail to the Captain Penniman House, Fort Hill, and the Red Maple Swamp area. Prior to the installation of this new signal, the closest bicycle/pedestrian crossing of Route 6 was either about a mile north at Eastham Town Hall or almost two miles south near the Orleans rotary. This new beacon allows the public a safe way to cross Route 6 and gain access to these beautiful areas.
Related Posts