Mashpee Rotary Corridor Study Complete: Final Report Now Available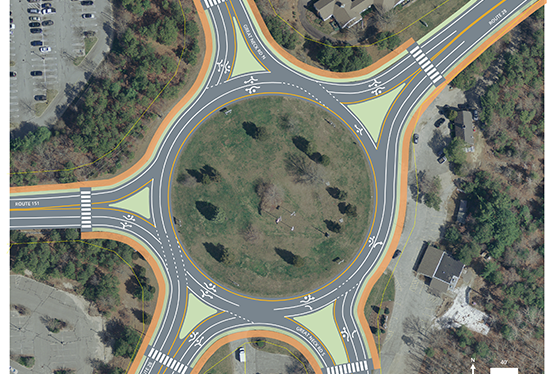 The Mashpee Rotary, a five-leg, major transportation node linking the intersections of Route 28, Route 151, Great Neck Road North, and Great Neck Road South is a well-traveled area that was identified as a priority for investigation due to existing congestion, safety, and multi-modal issues.
In June, Cape Cod Commission staff completed the Mashpee Rotary Corridor Study and issued a final report.
The study included a comprehensive analysis of existing and future conditions and a robust public outreach plan. Public feedback on existing issues and potential alternatives was solicited during public meetings held in April 2019 and December 2019.
Public feedback on the alternatives placed an emphasis on maintaining the circular intersection with minor signage and striping improvements along with incorporating multi-modal accommodations, known as the Rotary Retrofit alternative.
Understanding that transportation and land use planning are inextricably linked, it may be appropriate to refine or revise long-term recommendations as additional information about redevelopment activities in the area becomes available. Ultimately, major transportation investments should both benefit the travelling public and serve to support and enhance the vitality of the community.
Based on a technical review, consultation with Town staff, and public feedback on the alternatives, the options were refined and organized to prioritize a set of key short- and long-term recommendations.
Cape Cod Commission staff are currently coordinating with the Town of Mashpee and the Massachusetts Department of Transportation (MassDOT) to initiate the next steps of implementation for a future rotary retrofit and shared use path project as part of the MassDOT Project Need Form process.
The final report can be found here - https://www.capecodcommission.org/our-work/mashpee-rotary/