Historic District Roundtable Meets to Review Regional Challenges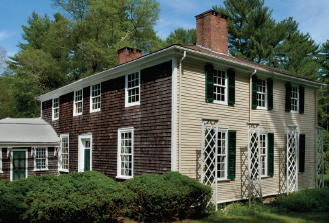 Commission historic preservation specialist Sarah Korjeff hosted a Historic Preservation Roundtable at the Commission office in November. This regular roundtable meeting brings together representatives from municipal historic boards and commissions from all 15 Cape Cod towns to share ideas and information about projects and to discuss important issues they face in their districts.
This month, nearly 20 people gathered to discuss the use of synthetic building materials in historic districts and to look at historic building inventories in each town.
Proposals for using synthetic materials for work on historic homes are on the rise, noted several representatives. Concerns about the look, longevity, and potential hazards of synthetic materials were discussed. New wood is not as strong as old wood and may not always be an effective replacement material.
Falmouth Historical Commission representative Ed Haddad told the group that his town has begun to approve certain alternative materials on windows, fiberglass doors and gutters, and has developed design guidelines to support them.
Traditionally, Korjeff said, the Commission looks to the guidelines and actions of the National Park Service to make decisions regarding the use of alternative materials, and the Park Service has begun to accept them in limited situations.
The group agreed that they'd like to work together, with guidance from the Commission, to create some local best practices and guidelines for the use of synthetic materials in historic districts.
On the topic of historic inventory, the group raised concerns about the large effort that it takes to undergo a complete inventory of historic districts. The Commission is planning to undertake a regional inventory to highlight historic structures threatened by coastal flooding, and also to focus on the region's earliest structures.
Related Posts