Cape Cod Regional Transit Authority launches SmartDart service 
On-demand app-based service allows customers to request rides in real-time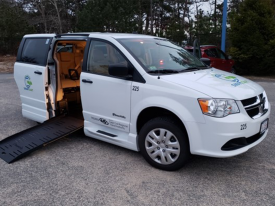 As a result of an evolving transportation landscape, caused by the emergence of new technology and on-demand ride-hailing services such as Uber and Lyft, the Cape Cod Regional Transit Authority (CCRTA) began developing a new and innovative modern mobility option of their own called SmartDART. SmartDART is an on-demand, app-based service, that allows customers to request a trip in real-time using their smartphones. Once a trip is requested, a brand new wheelchair accessible minivan, operated by a highly-trained CCRTA driver, will be called upon and redirected to the desired pick-up location to fulfill the trip. Customers will now have the ability to pay with a credit or debit for the $3 flat rate SmartDART in addition to a free transfer onto any fixed route bus if desired. This new service will allow CCRTA to target underserved areas while providing a more efficient and convenient service to our community.
SmartDART officially launched on September 8th as a pilot program within the Town of Barnstable and is currently available Monday through Friday, 7am-5pm. Since its launch, SmartDART has amassed over 190 registered users and app downloads and has completed over 500 trips. Each week has seen a steady increase in trips and app downloads. With its early success, the CCRTA is now confident that it will be able to expand to the Towns of Dennis, Yarmouth, and Falmouth by the summer of 2021. The long term goal is to expand the service to all of Cape Cod and integrate the new technology with the existing DART and Fixed Route service options to become a more on-demand and efficient transit system as a whole.
Throughout this effort, CCRTA has worked very closely with the Cape Cod Commission staff on the planning, development, and marketing of this new service. As the CCRTA rolls out this unique service to the region, its collaboration with the Commission continues to be pivotal. This initiative is one of many successfully completed projects that has arisen from the great partnership between the CCRTA and the Cape Cod Commission.
More information about SmartDART can be found on the CCRTA website: http://capecodrta.org/smart-dart.htm , or by calling (800)-352-7155.
Submitted by the Cape Cod Regional Transit Authority