Cape Cod Commission launches climate action podcast series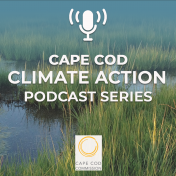 The Cape Cod Commission has launched a podcast series that will highlight efforts of the agency and its community partners working together as one Cape to build resiliency.
A number of topics will be explored through this series, including data and climate projections, regional greenhouse gas emissions, climate policy, efforts to promote renewable energy options, and expansion of transportation options, including more wide spread use of electric vehicles. Listeners will learn about how the work of the Cape Cod Commission integrates with the work of Cape Cod's municipal governments and other organizations to build a stronger, more resilient Cape Cod.
The podcast is hosted and produced by Cape Cod Commission communications manager Sarah Colvin and will feature discussions with Cape Cod Commission staff, community leaders, and partners.
Listen: https://www.capecodcommission.org/our-work/cape-cod-climate-action-podcast/
Related Posts