Bluetooth devices to help Provincetown parking and circulation study
For as long as people have driven the length of Cape Cod to enjoy Provincetown, navigating its streets and finding a place to park have been challenges.
Take this observation from a 1937 Provincetown Advocatereviewing newly implemented one-way traffic on Commercial Street:
"There's no question but what the one-way traffic has aided motorists in a hurry to get through town. However, the drivers of cars who would have patronized downtown merchants still could not do so because of the lack of parking space."
To take a fresh look at problems that extend deep into the last century, the Cape Cod Commission is using decidedly 21st-century technology. BlueTOAD devices were installed at 14 key locations around Provincetown to monitor traffic volume, patterns and timing.
It's all part of the Provincetown Parking and Circulation Study, which officially kicked off in June. The Town of Provincetown contracted with the Commission to look at traffic circulation and parking challenges throughout town and offer suggestions for improvements now and into the future.
BlueTOAD stands for "Bluetooth Travel-time Origination And Destination." The recorders anonymously sense the presence of devices that emit discoverable Bluetooth signals, such as cellphones, computers and sometimes the vehicles themselves. No private data is recorded, but each unique device is logged to determine basic travel patterns and times around town. A total of 14 devices were installed the week of Aug. 10 and were set to record data continuously for one week.
The same technology is used by the Massachusetts Department of Transportation (MassDOT) to establish times for the Route 6 travel time signs.
Data processing helps determine which blue tooth devices are in vehicles based on the speed with which receiving devices intercept the same signal. All of the data processing will be completed by TrafficCast, which supplied the devices.
Patrick Tierney, technical services planner with the Commission, said that to further evaluate travel patterns, the information from the devices will be supplemented by traditional traffic counting strips along major roadways and at parking lots entrances and exits.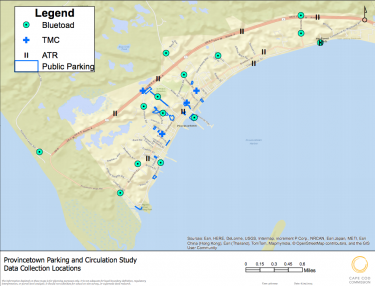 This is the Commission's first deployment of such technology. While the results will need to be evaluated, Technical Services Director Glenn Cannon is already looking ahead to other uses.
The Commission will work this fall to develop the study with the town and community. For more information about the Provincetown parking and circulation Study, visit http://www.capecodcommission.org/index.php?id=504.
More information about BlueTOAD technology and TrafficCast is available at www.trafficcast.com.
Related Posts