Overview
The Climate Ambassador Program is an initiative to educate, engage and empower young people on Cape Cod to work together to combat climate change. The Program is intended for students in grades 9-12 who would like to develop a better understanding of climate change, learn how to communicate effectively about climate, and learn what actions can be taken individually and collectively to bring about change. Selected students will participate in virtual meetings, where they will learn about and discuss a variety of climate-related subjects, including local and global climate causes and impacts, carbon reduction strategies, resiliency planning, and equity considerations. Students will have a chance to show off their creativity with a small project demonstrating how they can have a personal impact on climate change at home or in their school communities.
Who is Eligible?
Students enrolled in Cape and Islands schools in grades 9 through 12 are eligible to apply for the Cape Cod Commission's Climate Ambassador program.
How to Apply
Interested students will need to submit an application including a brief description detailing why they are interested in climate change and what they hope to learn or accomplish by being a part of the Climate Ambassador Program. A reference from a teacher or guidance counselor is required and should be submitted separately to climate@capecodcommission.org. Applications are now closed for the 2022 program.
2022 Program Timeline
Session dates: January 18, February 1, February 15, March 1, March 15, March 29, April 12
Session time: 4:00-6:00 PM
Expectations
Student climate ambassadors are expected to:
Commit to attend all meetings
Actively participate in respectful and constructive dialogue with other participants
Participate with the use of video through the remote platform
Come prepared, having reviewed any provided resources in advance of meetings
Share experience in the program with supporting teacher and peers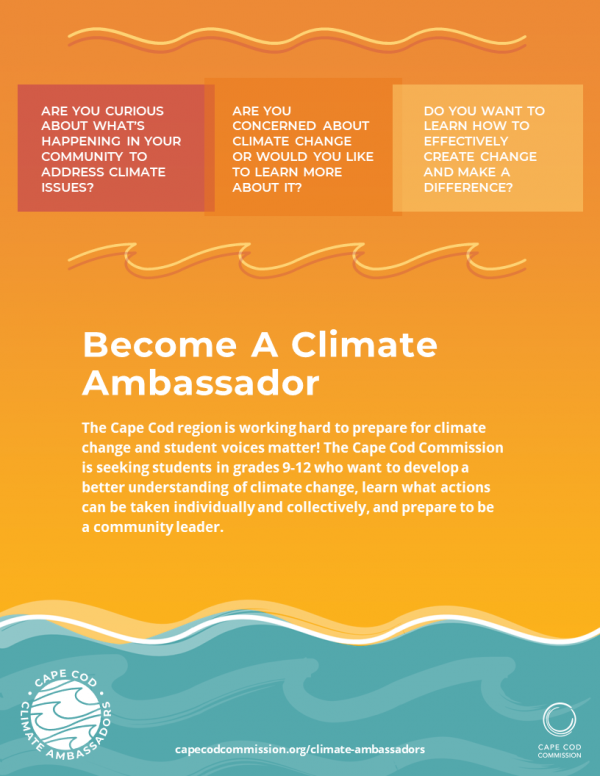 Please Note: The Climate Ambassador Program is designed for a small group of students in grades 9-12. Selection will be based on regional geographical distribution, grade level distribution, quality of application response, and application completion.