Overview
Communities throughout Cape Cod and the Islands have long contended with underlying challenges related to the provision of quality, affordable childcare and early education services. These dynamics have only been amplified by COVID-19, which has also produced novel complications for both families and providers. While these challenges have immediate effects within the childcare and early education industries, they also threaten broader repercussions for the region's economic recovery and the economic status of women, children, and families.
Supported by $200,000 in state funding, the Cape Cod Commission is collaborating with Barnstable County and the Rennie Center for Education Research & Policy to conduct a survey-based needs assessment related to early education and childcare for Cape Cod and the Islands. Research will culminate in a report detailing existing levels of provision and needs, identifying any gaps in services throughout the region, and exploring potential strategies for mitigating gaps in services, providing a foundation for improving the accessibility of services in the region.
Surveys
The project aims to better understand existing levels of provision and needs in the early education and childcare industries, identify gaps in services, and explore potential strategies for improving the accessibility of services in the region. This assessment will be based, in large part, on two surveys: one of families with small children and a second of childcare providers. Input from both groups will be critical to better understanding gaps in access to childcare.
Both surveys are available online and responses will be collected through May 4.
Family Survey: If you have children aged five years or under in Barnstable, Nantucket, or Dukes Counties, please take the family survey at capecodcommission.org/childcare. Upon completion of the survey, respondents can enter to win one of ten $100 Visa gift cards from the Rennie Center. The survey is available online in English, Spanish, Portuguese, and Haitian Creole and on paper at select public libraries. Respondents may select their preferred language for the survey by clicking on the globe button in the top right corner.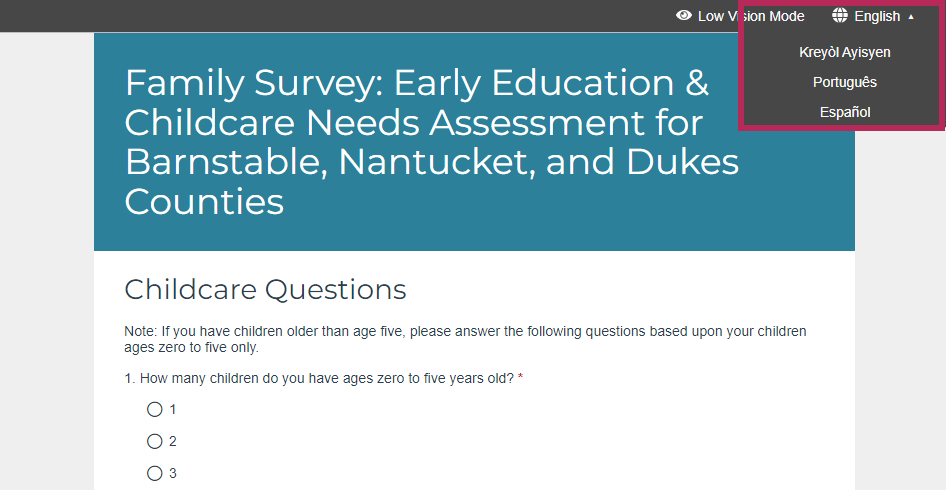 Provider Survey: If you are a childcare provider in Barnstable, Nantucket, or Dukes Counties, please take the provider survey at capecodcommission.org/eec-providers.
Please help spread the word!
If you or your organization have families in your network, assistance with survey outreach to them would be greatly appreciated. Potential strategies include sharing the survey link in your organization's newsletter, posting the project flyer in a visible location, or sharing a graphic on social media. The project flyer, social media graphics, a project postcard, and potential newsletter language can be accessed here: www.capecodcommission.org/eec-outreach.
Thank you for your assistance in advancing this key regional project!
Project Resources
Apr 12, 2022
Early Education and Childcare Project Overview
and the Rennie Center for Education Research & Policy to conduct a survey-based needs …early education and childcare for Cape Cod and the Islands. Research will culminate in a …
Apr 12, 2022
Survey Flyer
survey aimed at better understanding local childcare needs. This survey is available …SURVEY Does your family need or receive childcare services on Cape Cod, Martha's Vineyard…SURVEY…
Apr 12, 2022
Survey Postcard
survey assessing childcare needs for Barnstable, Dukes, and Nantucket Counties. CHILDCARE …SURVEY Are you a Cape or Islands resident with children five years old or younger? We want…Survey…